Hey everyone! Happy Superbowl Sunday! Well my weekend was very exciting… I went on a mini vacay with some good friends and experienced some many good eats at the Big Easy. I am definitely pooped from the long weekend but it was definitely memorable.
On Friday, we drove to NOLA(New Orleans, LA) and checked into the Best Western Landmark hotel.
We went to Pat O'Brien's for an appetizer and drink while waiting for our friends to get into town.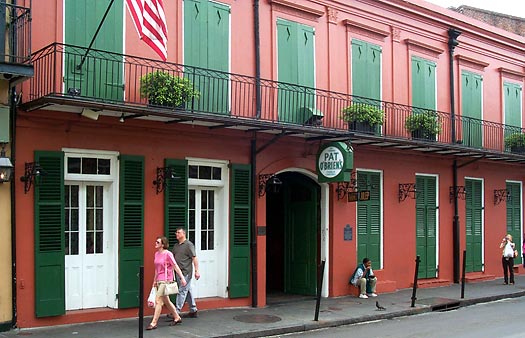 We had some gator bites which were really good with a honey mustard sauce:
I had one of their famous hurricanes. If you go to NOLA you have to go to this place and sit in their nice courtyard and enjoy on of these:
Shortly after finishing our drink, our friends arrived and we went to this famous oyster place. There was a small line outside and we waited about 15 minutes. The wait was worth it. We had excellent service and their oysters are phenomenal!
Along with the oysters I had an Abita beer. This is a seasonal on and is my ultimate favorite flavored beer! It is not your traditional sweet/flavored beer. It is a beer infused with strawberry flavor but does not taste syrupy at all. It is malty and delish! I recommend this beer if it is available to anyone trying Abita.
The next morning we went to brunch at Elizabeth's Restaurant right outside the French Quarter. I got crab cakes with poached eggs and a hollandaise sauce.
My friend James got a salmon with brie dish…I can't remember the name.
My husband got a fried catfish breakfast that was marinated in hot sauce. I tried this and was not a fan. I would not recommend this dish.
Our friends went to the Audubon Aquarium but since Brian and I had been there we decided to walk around the French Quarter. We stopped and grabbed a drink (Abita Strawberry Harvest.)
When our friends finished at the aquarium, we headed over to Café du Monde. This is yet another place you have to go to if you visit NOLA. They are famous for their Beignets.
While walking around, we stopped at this candy store and grabbed a chocolate and pralines to share.
While walking around the French Market I got this:
I fell in love with it when I saw it.
---
Here is the famous Jackson square:
That night we went to Jacques-Imos. I made reservations for this place about a month ago. All I have to say is O….M….G! This place was amazing! We actually talked about going again for a day just to eat at this place again! We all shared our plates and I can honestly say that not one.single.thing was disgusting.Everything just had a perfect balance of flavor. The owner is so personable and walks around socializing with customers. He also gave our group drinks on the house. I highly recommend this restaurant!
The ceiling has artwork:
They make reservations for 5+ people. If you don't have reservations, you will probably be waiting a while.
They brought us cornbread with some garlic and parsley.
And a spinach salad with an oyster and Asian dressing:
Here are some eats:
Jambalaya:
Blackened tuna with champagne brie sauce:
Smothered chicken:
Grilled duck breast with orange soy glaze, shitake mushrooms and pecans:
Blackened Sirloin of lamb with sundried tomatoes and mushrooms:
Country fried venison:
Gumbo:
After we went to Pat O'Brien's for a hurricane and we went to Tropical Isle for a Hand Grenade.
This morning we went to breakfast at Stanley's in Jackson Square:
I got the Eggs Stanley which is a English muffin, Canadian bacon, poached eggs, oyster fried with cornmeal batter topped with hollandaise sauce. Yummy!
---
Tomorrow starts my 7 day Vegan challenge. I will be posting my experience with it. If you want to join in on the fun you can go to
Facebook Vegan for a Week
.
Well I am gonna get ready for tomorrow and go to sleep. Night!
Teresa